ELA Grades K-5

The adopted English Language Arts curriculum for grades K-5 is Houghton Mifflin Journeys Reading. Journeys is a research based ELA program with proven results. Through focused comprehensive instruction that helps engages students while meeting the needs of all learners. Every reader is empowered, inspired, and feels confident.
The significant components of the Journeys Reading program are:
- Close reading (reading slowly and carefully to assure understanding)
- Anchor Text (a more complex text that students apply learned skills and concepts)
- Leveled Readers (a variety of stories from a variety of genres to meet all reader's needs)
ELA Grades 6-8
The adopted literature program for grades 6-8 is Holt Elements of Literature. Students learn about a topic that is engaging to middle school students through a variety of writings that includes literature, expository text, informational writing, poetry, and biographies. Throughout the reading workshop students learn about literary elements, reading skills and strategies, advanced vocabulary, and text structure.
Through the workshops students begin to apply reading to their real world environment by using multi-media resources and text, writing, and language development (vocabulary).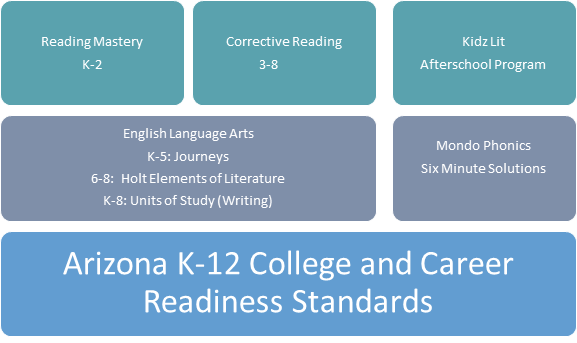 The Nadaburg Unified School District No 81 uses Eureka Math as the adopted mathematics curriculum.
A Story of....

Eureka Math is founded on the concept that math is essentially a story that needs to be told in a sequential order. The stories unfold in a logical order to support students understanding math concepts, not simply memorizing them. In Kindergarten through 5th grade the stories are titled, A Story of Units, and in 6th-8th grade they are titled A Story of Ratios.

The Foundations of Eureka Math

Focus: Focus deeply on prioritized concepts
Coherence: Teachers build learning on prior learning, including learning in prior years
Rigor: Develops student math fluency, procedural understanding, and concept development

Help at Home

The focus in math use to be memorizing formulas and calculating problems. 21st Century workers need to have a deep understanding of how math works in context. Students need to reason to find solutions, and be able to justify how they came to a solution. The link below is to the Eureka web page. Each area of the web page is explained so you can easily find what you are looking for.
Homework Helpers-Eureka provides insight to the homework your child will bring home. Eureka provides access to the first module on line (there are typically 6 modules per a grade level).

Grade Road Maps-The Grade Road Maps are a quick guide to what your child will be learning during the school year. The guides discuss an overview of the math that can be used to help students with their homework.

Module Tip Sheets-Is a quick overview of what your child will be learning during a module. Typically a module will last 5-8 weeks, though some are shorter in duration. The tip sheets provide information on the overall purpose of the unit, a break down of what the child will be learning, and the key vocabulary.

Videos-The video section provides short videos on a variety of topics about mathematics to help you support your child at home.

FAQ-The frequently asked questions page has a variety of questions and answers about Eureka math.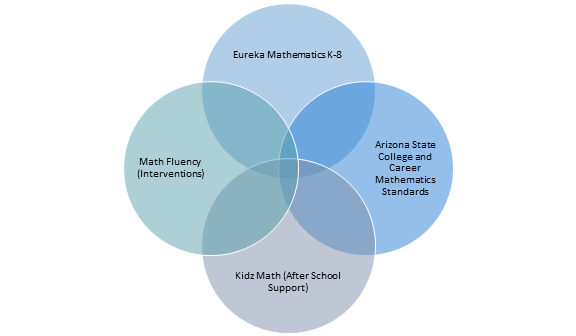 | | | |
| --- | --- | --- |
| Module | Estimated Time Period | |
| Module 1 | August-October | |
Kindergarten Module 1

Learning Numbers 1-10

August-October
Module 1 Fun At Home:

Play the license plate game with numbers as you walk through your neighborhood. Have them look for a 1 on a license plate. Then find a 2, then a 3, and so on.
Write your name and a family member's name. How many letters are in your name?
How many are in your family member's name? Which name has more?
Look through a store ad. Cut out numbers 0-20. Put the numbers in order from least
to greatest.
Grab a handful of an item, cereal, beans, etc. Estimate how many pieces you grabbed.
Now count them. Was your estimate close?
Estimate how many spoonful it take to finish a bowl of cereal. Count each spoonful as
you eat.
Walk around your home. Count how items are plugged into the wall.
Show the number 5 in as many ways as you can. Use pictures and numbers
Educational Services Calendar